About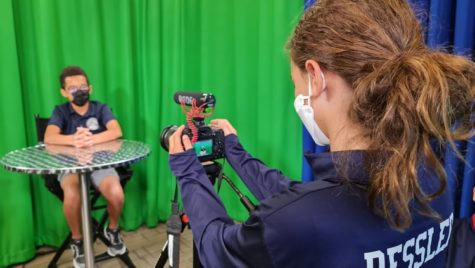 The Spartan Chronicle is the official student news site for the Miami Country Day Middle School in Miami, Florida. It combines print, video, podcasts and editorials.
Publication Policy
The Spartan Chronicle and Spartan TV are school publications produced by students for distribution and transmission to members of and those interested in the Miami Country Day School community, and shall be public forums for expression by student reporters and editors.
The Spartan Chronicle publishes complete and accurate coverage across platforms through journalistically responsible, ethically reported and edited content. We hold that student-determined expression promotes democratic citizenship through public engagement diverse in both ideas and representation.
The content of both The Spartan Chronicle and Spartan TV is determined by the staff and does not necessarily reflect the opinions or policies of Miami Country Day School's faculty, administration, advisers or student body.
MCDS  The Spartan Chronicle Editorial Policy
MCD's The Spartan Chronicle newspaper and The Spartan Chronicle website are middle school student publications whose content is chosen and whose production is facilitated by students. The student editors-in-chief, section editors, photo editors and web editors oversee the work of their peers in these publications. The student editorial board makes final decisions on all content of the newspaper and website. The following editorial policy is adapted for Miami Country Day's Spartan Chronicle from a template provided by the Journalism Education Association, an independent national scholastic journalism organization that promotes and supports student press. This is a public document intended to inform our community about the purpose and policies that guide our publications. 
Mission, Law and Journalistic Principles
Miami Country Day School Spartan Chronicle publications are forums for student journalists to inform and educate their readers as well as for the discussion of issues of concern to their primary audience—other students. These publications are not reviewed or restrained by school officials prior to publication or distribution. Students assume full responsibility for the content of The Spartan Chronicle publications and are aware of their legal obligation to avoid obscenity, libel, slander or content that "so incites pupils as to create a clear and present danger of the commission of unlawful acts on school premises or the violation of lawful school regulations, or the substantial disruption of the orderly operation of the school." (Cal. Educ. Code Sec. 48907)
The overall purpose, role and goal of The Spartan Chronicle is to:
Inform, challenge and entertain readers and viewers with accurate reports and thoughtful perspectives, where information has been impartially gathered and thoroughly verified;

Serve as an educational laboratory experience;

Be accurate, fair, and impartial in its coverage of issues that affect the school community;

Cover relevant topics, even in cases of possible controversy;

Cover the total school population as effectively and accurately as possible;

Report all issues in a legal, objective, accurate and ethical manner, in accordance with  the code of ethics developed by the Society  for Professional Journalists which includes guidelines for accuracy, responsibility, integrity, conflict of  interest, impartiality, fair play, freedom of  the press, independence, sensationalism, personal  privacy, obstruction of  justice, credibility and  advertising.
Role of the Adviser
The Spartan Chronicle adviser instructs students in journalism skills including but not limited to: developing story ideas, interviewing sources, drafting and editing news, features and opinion articles, page design and photojournalism.
The adviser provides a sounding board as students develop stories, engages in discussion with students to help them develop a range of skills and to consider the effectiveness of their expression. The adviser shares her opinion with students about content and writing style and graphics and layout of the publications, but does not censor. The adviser promotes a professional learning atmosphere in the journalism program by supporting a student leadership structure where student leaders are responsible for all decision-making.
Rights and Responsibilities of The Spartan Chronicle Staff
Students who produce the The Spartan Chronicle have the right to choose topics for publication of interest to their readership, to express their views on any topic (including those that might criticize school policy) and to use their authentic writing voices to express information, ideas and viewpoints.
The Spartan Chronicle staff aims to produce the best possible publications, to gather information for stories from credible sources, to engage in thorough self review of all content in order to become better journalists and to express their ideas within the legal framework of student press law.
Policy for letters to the editor
Letters to editor will be printed in the opinion section of the newspaper or on the website pending approval by the Spartan Chronicle editorial board. Letters to the editor should not exceed 500 words, must be signed and must include the writer's address and phone number (which will be verified by a Spartan Chronicle staff member to determine the authenticity of the writer). No material will be printed where content is obscene, invasive of others' privacy, encouraging physical disruption of school activities, and/or implies libel. 
The Spartan Chronicle editorial board reserves the right to withhold a letter or column or other submission and/OR return it for revision if it contains constitutionally unprotected speech or grammatical errors that could hamper its meaning. The views, thoughts and opinions expressed in the Op Ed section in letters, excerpts and guest columns are the writer's alone and do not necessarily reflect those of any other party, including the opinions or policies of the staff or anyone else at MCDS.  The editors review all submissions including letters to the editors, advertising, guest commentaries and reserve the right to edit, publish and refuse material. Reasons for refusal can include length, clarity, libel, obscenity, and/or material disruption of the educational process at Miami Country Day School.
The Spartan Chronicle web team hopes to launch meaningful online discussions about topics of interest and importance.  Reader comments are encouraged, however web editors will review all comments prior to publication. Abusive comments, comments containing obscene language or promoting a business or product will not be published. Comments criticizing or complimenting the Spartan Chronicle will be published if they do not violate restrictions mentioned above.
The Spartan Chronicle requests that readers register with their real name when leaving a comment. Editors will not edit comments.
For further information, please contact us at [email protected]