A Historic Triumph for Miami Country Day Swimming
The Miami Country Day boys swim team was officially declared district champions on Monday, October 17, 2022. This is the 3rd time in a row that the MCDS boys swim team has won district championships. The country day boys team, with over 20 kids, and a very fast team, along with a home pool advantage, cruises past Ransom, Gulliver, Riviera Prep, and Westminster to bring home the gold.
Half of the swim team are 7th or 8th graders; many are new to the team. There are 9 events for boys and 9 for girls (200 Medley Relay, 200 Freestyle, 100 IM, 50 Freestyle, 50 Butterfly, 100 Freestyle,50 Backstroke, 50 Breaststroke, 200 Freestyle Relay).
The event that is used to compare time is 50 free. The fastest time on a 50 free this year is 26 seconds, held by Adrian Sanchez Gabriel Brodsky's time is 28 seconds. Each swimmer can only swim two events, yet the whole team did extraordinary, especially since you only score points if you are top 8 out of 16-72.
Congratulations to the talented swim team and their coaches.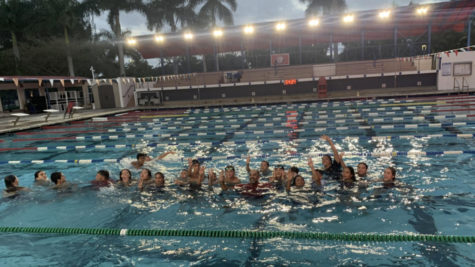 Leave a Comment